---
Oval Shape Acrylic Biconvex Magnifying Lens 4X size 85mm x 64mm
#8.5 x 6.4cm lens
Oval shape magnifying glass in strong 5X magnification power, E-Tay can offer this strong reading magnifier lens for any interest party no min, quantity requirement. The bright field dome magnifier in oval shape magnifying lens is crystal clear image and distortion free viewing suitable for habbiest stamp collector.
Egg-shaped or Oval shaped reading magnifier with 5X magnification power super perfect for reading small prints or examine circuit boards. E-Tay can offer different shape magnifying glass in diversity power. OEM project for magnifier lens are welcome.
Why choose E-Tay's round lens?
1.Easy to carry. 2.Not easy to hurt. 3.Clear reading.
E-Tay's Oval Shape Acrylic Biconvex Magnifying Lens 4X size 85mm x 64mm
Oval Shape Acrylic Biconvex Magnifying Lens 4X size 85mm x 64mm are made of high quality acrylic material(1.100%Virglin Raw Material. 2.100% Clarity.)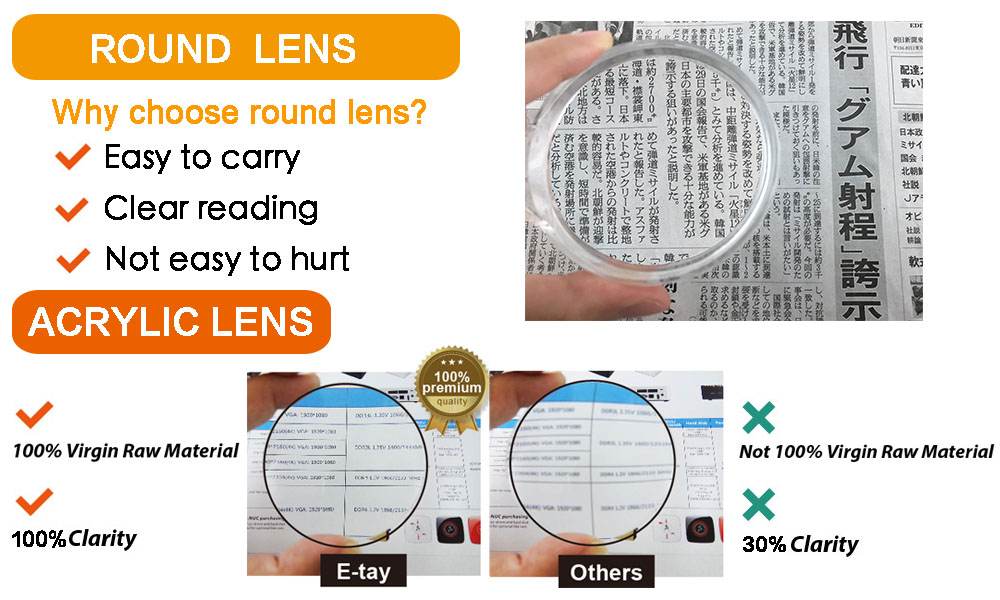 Specification
Item number: #8.5 x 6.4cm lens
MOQ: 1,000pcs
Magnification: 4X
Size: 85 x 64mm
Structure: Biconvex Lens (Double Convex Lens)
Packing: Paper box
Terms of payment: Paypal, TT, Western union, L/C, D/P
Related Products

#13.2 x 10.5cm lens

---

3X Extra large rectangular acrylic magnifying glass biconvex PMMA lens 5 1/4"" x 4 1 /4"" Square magnifying glass in size 132mm x 105mm made by optical grade PMMA transparent with 3 X magnification perfect for reading small print as a reading magnifier. The jumbo rectangular magnifier lens is suitable for fix on machine to enlarge the instrument panel for easy reading.

---

#11.7 x 7cm lens

---

3X Rectangular magnifier lens with extra spot strong lens 5x magnification is perfect for reading small text or reading. Wide view square magnifying glass lens 3x magnification and 5x spot lens made by PMMA optical grade material bifocal Inset magnifier for Reading.

---

---

Gallery