---
LED Illuminated Head Magnifier Visor with 4 Acrylic Lens Set
#ET98
Premium LED Illuminated Head Magnifier Visor with 4 Lens set 1.8X, 2.3X, 2.7X, 3.5X lenses
The LED lighted headband magnifier is the perfect option for you to solve your vision needs. Illuminated bandeau loupes can be used for variety of application jewellery making, watch making, crafting, knitting, needle point, crochet, cross stitch, any detail works. Optivisor with led light distraction free work, leave both hands to work.
Specification
Item number: #ET98
MOQ: 240pcs
Magnification: 1.8X, 2.3X, 2.7X, 3.5X
Lens Material: Acrylic Lens
Colors: Black
Packing: Paper box
Terms of payment: Paypal, TT, Western union, L/C, D/P
LED Illuminated headband magnifier visor with 4 different diopter magnifier lens and change the lens easily by slide in no tooling will be necessary. The highest quality optical lenses are mounted into a frame on a comfortable headband that can be tilted out of the way when magnification is not needed. Designed for close work, either reading, writing or crafting projects. They can be worn over glasses or alone. Note that the stronger the magnifier, the closer the reading matter must be held to be in focus. LED lighted magnifying visor provides hands-free magnification and viewing for a variety of applications such as jewelry-making, watch-making, needlework, etc.
Why choose E-Tay's round lens?
1.Easy to carry. 2.Not easy to hurt. 3.Clear reading.
E-Tay's LED Illuminated Head Magnifier Visor with 4 Acrylic Lens Set
LED Illuminated Head Magnifier Visor with 4 Acrylic Lens Set are made of high quality acrylic material(1.100%Virglin Raw Material. 2.100% Clarity.)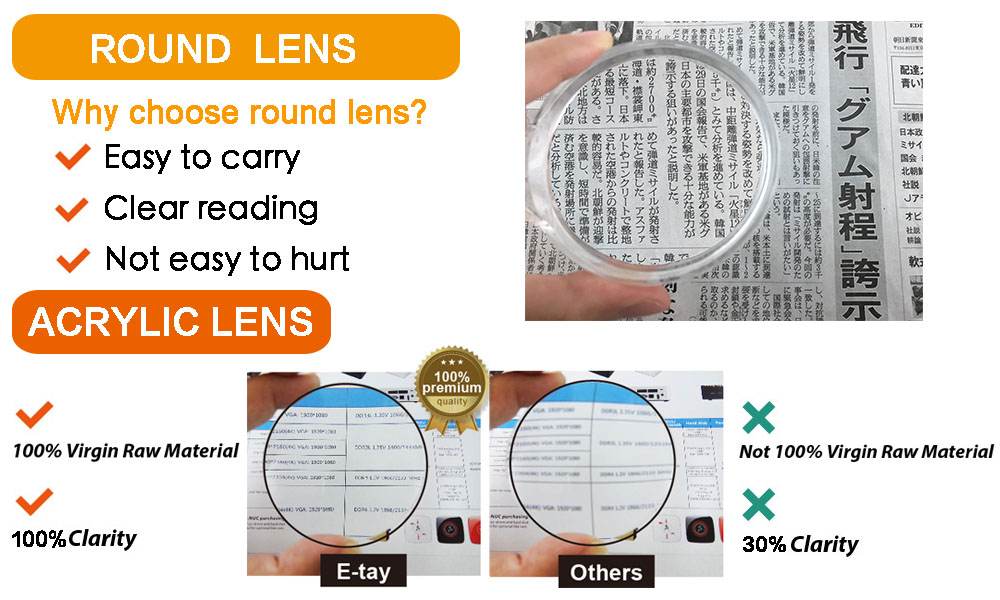 Features
Binocular headband magnifier use for coin collector, stamp collector, biologist, etc.
Lighted headband magnifier various magnification glasses with 4 different power lens: 1.8x, 2.3x, 2.7x, 3.5x.
Headband magnifying glass flip up, hard cover, shatter proof, lightweight.
Adjustable headband.
AAA Battery not included.
OEM/ODM, wholesale.
Made in Taiwan.
Related Products

#ET38A

---

Premium Binocular Headband Magnifier Visor with 4 Lens set 1.8X, 2.3X, 2.7X, 3.5X lenses For example 2 Diopter = 1.50x Magnification 3 Diopter = 1.75x MagnificationHeadband magnifier visors are also called binocular magnifier, bandeau loupes. Binocular magnifier is a precision binocular headband magnifier which permits unrestricted user efficiency while reducing eye strain suitable for professional artists and jewelers. It leaves both hands free and allows three dimensional vision. Head magnifier can be used by anyone whose profession or craft requires close accurate work. Worn over prescription or safety eyeglasses.

---

#MP81001

---

Premium LED Lighted Optivisor with 5 Lens set 1.0x, 1.5x, 2.0x, 2.5x, 3.5x lenses Head magnifier can be used to manufacture and process precise products, gardening maintenance. Also for mini circuits, machinery parts, camera, electric chemical product, computer checking and repairing. Suitable for works of dentists, beast doctors and beauty staffs. For jewel processing, sewing, embroidery, stamp collection. For reading, drawing, handicrafts, fishing hobbies etc. Excellent as gifts to promote the brand and business.

---

---

Gallery