---
7.8" 3D Enlarger Screen Magnifier with Foldable Holder Stand for Smartphone
#ED23
3D 7.8 inch large screen magnifier for smart mobile phone movies amplifier for any smartphone, iphone 4/5/6/7/7s plus, samsung galaxy note 6/5/4/3 edge all smart phones. Mobile phone screen magnifier can enlarge the mobile screen and make it sharp and clean, have 3D effect function and magnifies your smart phone screen display to make it easier to watch movies videos or news on your phone. It will relieve the discomfort and visual fatigue.
Specification
Item number: #ED23
MOQ: 1,000 pcs
Magnification: 3X - 5X
Material: PVC Fresnel Lens
Size: 148 x 185 x 16mm
Lens Size: 108mmx168mm
Colors: Black, White, Customized
Packing: Paper box
Terms of payment: Paypal, TT, Western union, L/C, D/P
E-Tay offer OEM package per customer special design with low MOQ and customized logo printed on the 3D HD movie video amplifier with foldable holder stand. In addition, 3D smartphone screen magnifier is used to be promotional gifts for elderly and people with low vision. 3D screen phone projector magnifier for all smartphone. Wholesale and retail are welcome.
Why choose E-Tay's rectangular lens?
1.Double viewing area. 2.increasing usable workplace. 3.Suitable for viewing area your smartphones and tablets.
E-Tay's 7.8" 3D Enlarger Screen Magnifier with Foldable Holder Stand for Smartphone
7.8" 3D Enlarger Screen Magnifier with Foldable Holder Stand for Smartphone are made of high quality acrylic material(1.100%Virglin Raw Material. 2.100% Clarity.)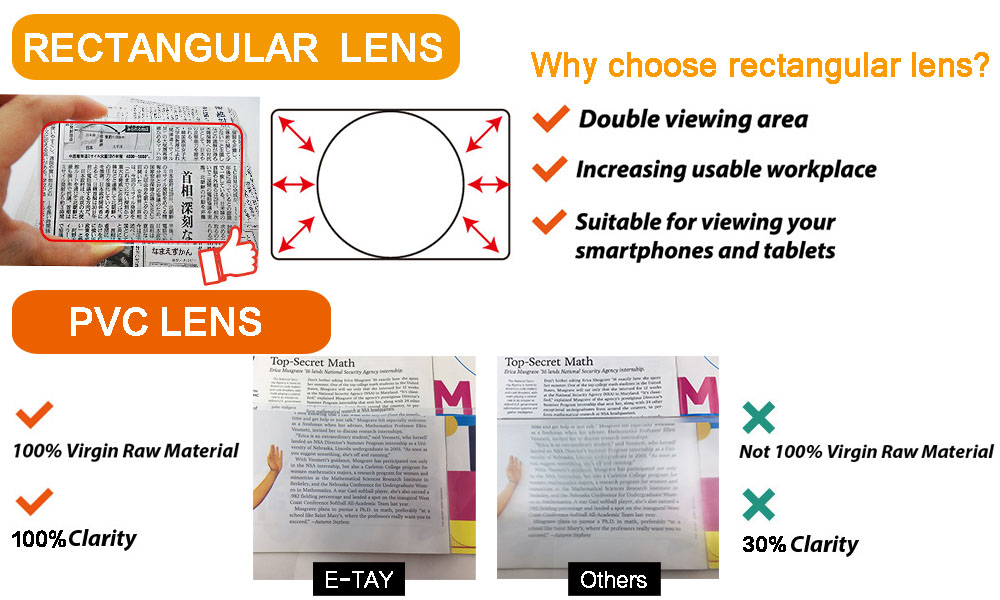 Features
Mobile phone magnifier is page size viewing area, can be use for hands free reading.
Cellphone screen magnifier available in black and white.
3D screen magnifier is watch movie on mobile phones.
Compatible with iPhone, Android phones, Samsung, HTC, Nokia, etc.
Adjustable angle screen.
Folding design, convenient for travel.
Anti slip phone stand.
Related Products

#ET23a

---

Enlarged mobile phone screen magnifier make each mobile phone has large screen clear movies like. Stand magnifying glass reduced eye fatigue of movies and television, brought on mobile phone, and stung eyes and tear phenomenon 3D-like screen display. E-Tay will offer OEM special package design per client requested low min.

---

#ED16

---

The coil clear view hands free craft magnifier is a functional and stylish hands free magnifier. The clear view craft reading magnifier enables you to work on crafts, models, art and many other hobbies that requires your hands to be free. Large 5.5 x 4 inch 2.5x rimless lens makes craft magnifier an ideal work tabletop magnifier .The spherical lens is designed to give a clear, distortion-free image to see the fine details with ease,ideal for reading, inspection, sewing, soldering, threading. Made in Taiwan. Magnifying glass for freehand reading is the best choice for you.

---

---

Gallery