---
3X LED Page Reader Magnifier with 12 Dimmable Anti-Glare LED Lights
#1720
The full page lighted magnifying sheet with 3x magnification perfect for electronic repair and examining extremely small texts, images and object. The Anti-glare LED lighted page magnifier with 12 built in SMD LED lights. With consumes 60% less power more evenly lit viewing area 30% brighter than regular led light.
3X LED Page Reader Magnifier with 12 Dimmable Anti-Glare LED Lights has Large viewing area wiyh crystal clear lens
Optical grade magnifying lens covers large viewing area without having your hands to move all the time, lens(viewing area) is measured 4.5"x 7" and magnifies up to 300%. Our SMD LEDs are designed to last 50,000+ hours not only provide more evenly lit and brighter viewing area but consume less power than traditional LEDs so a new set of batteris would last longer. This led magnifier is equipped with 12 anti-glare SMD led lights, which provide more evenly lit area than traditional LEDs, lighting does not focus on one point rather scattered within an area.
SEMI-transparent anti-glare reflector
Direct lihghting onto designated area and provide evenly lit viewing area without glare to your eyes. We supply one-series service for the customer,including design, production, and packing.Welcome to contact us and design your unique magnifier.
Specification
Item number: #1720
MOQ: 1,000pcs
Magnification: 3X
Size: 182 x 143 x 5mm
Battery: AAA Batteries x3
Colors: Black, Costom
Packing: Paper box
Terms of payment: Paypal, TT, Western union, L/C, D/P
Why choose E-Tay's round lens?
1.Easy to carry. 2.Not easy to hurt. 3.Clear reading.
E-Tay's 3X LED Page Reader Magnifier with 12 Dimmable Anti-Glare LED Lights
3X LED Page Reader Magnifier with 12 Dimmable Anti-Glare LED Lights are made of high quality acrylic material(1.100%Virglin Raw Material. 2.100% Clarity.)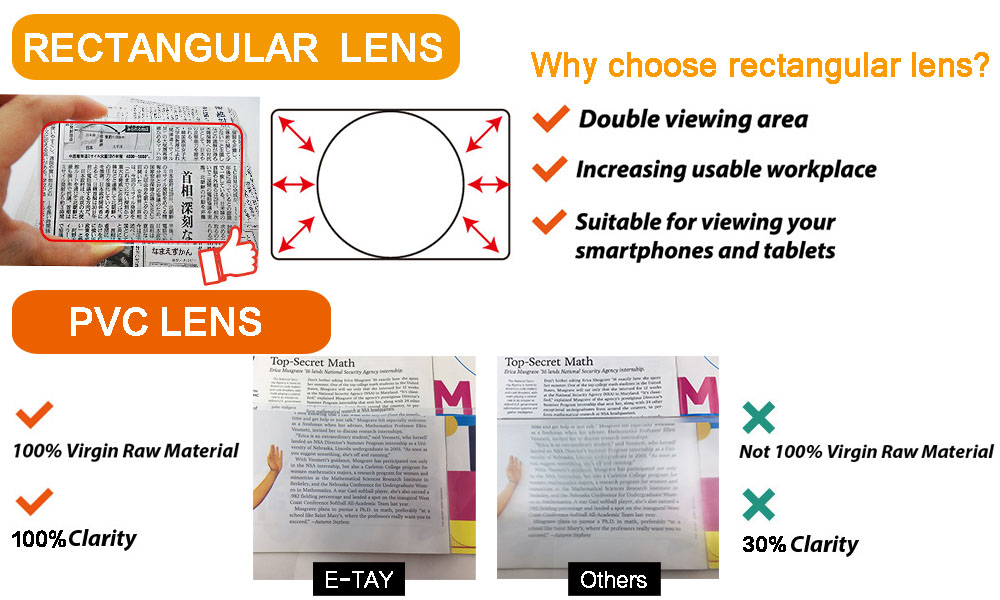 Related Products

#1814

---

A5 size LED reader page magnifier is made of high quality magnifying lens designed for people with low vision, seniors, hobbyists and professionals. The 3X magnifying lens is ideal for reading and inspection, full page magnifying glass with light is perfect for electronic repair, and examining extremely small texts, images, and objects. The lighted page rader magnifying sheet is operated by cell battery and 3 lighted led.

---

#200PSL

---

A4 Full Page Large Hands Free Magnifying Glass Lens For Reading with Cord has 2-in-1 design - Hest-hung and desktop types, convenient and practical, so that your hands can freely concentrate on details. Foldable page magnifier with very clear magnification for most of a page. Hands free chest rest LED reading magnifier - Neck wear visual aid illuminated magnifying glass for reading or embroidery, 3X large wide horizontal stand magnifying glass with light with 4 Ultra Bright Built-in LED light.

---

---

Movies





Gallery