---
4X LED Lighted Bar Hand Held Magnifier with Yellow Tracker Line
#1603
4X LED Illuminated magnifying glass with 6 energy efficient led light, bright yellow guide line as handheld led magnifier. Reading bar magnifier is Idea for all reading materials or viewing all small objects. 6 energy-efficient LED lights provides an evenly lit viewing area even under low-light conditions. Tracking line helps readers focus on standard text at a time that ensures you don't lose track of the line you're reading. E-Tay is the first company in the world to develop this kind of bar magnifier.
4X LED Lighted Bar Hand Held Magnifier with Yellow Tracker Line for distortion free viewing
LED lighted bar magnifier with professional quality optical grade lens for crystal clear image and distortion free viewing. It provides greater clarity and durability than lesser materials. The stand which holds the jumbo sized dome shaped glass is set at the perfect height to obtain the focus needed for whatever you are viewing. The super bright led lights fully illuminate the viewing area for easy visual recognition.
4X LED Lighted Bar Hand Held Magnifier with Yellow Tracker Line carry around easily
Illuminated raised bar magnifying glass is ideal for reading small prints, viewing, newspapers, inspecting small objects, examining maps and extremely small texts, blueprints, hobbyist, engineers, maps, coins, stamps, electronic parts, needlepoint, jewelry, model building, and photos. It is measured 9.6"x1.5"x1.5", due to it' portable size, very easy to carry with and bring it wherever you go.
Specification
Item number: #1603
MOQ: 1,000pcs
Magnification: 4X
Size: 246 x 41 x 37mm
Lens Material: Acrylic Lens
Colors: Gray
Product Patent Number: 201530263372. 9
Packing: Paper box
Terms of payment: Paypal, TT, Western union, L/C, D/P
Why choose E-Tay's rectangular lens?
1.Double viewing area. 2.increasing usable workplace. 3.Suitable for viewing area your smartphones and tablets.
E-Tay's 4X LED Lighted Bar Hand Held Magnifier with Yellow Tracker Line
4X LED Lighted Bar Hand Held Magnifier with Yellow Tracker Line are made of high quality acrylic material(1.100%Virglin Raw Material. 2.100% Clarity.)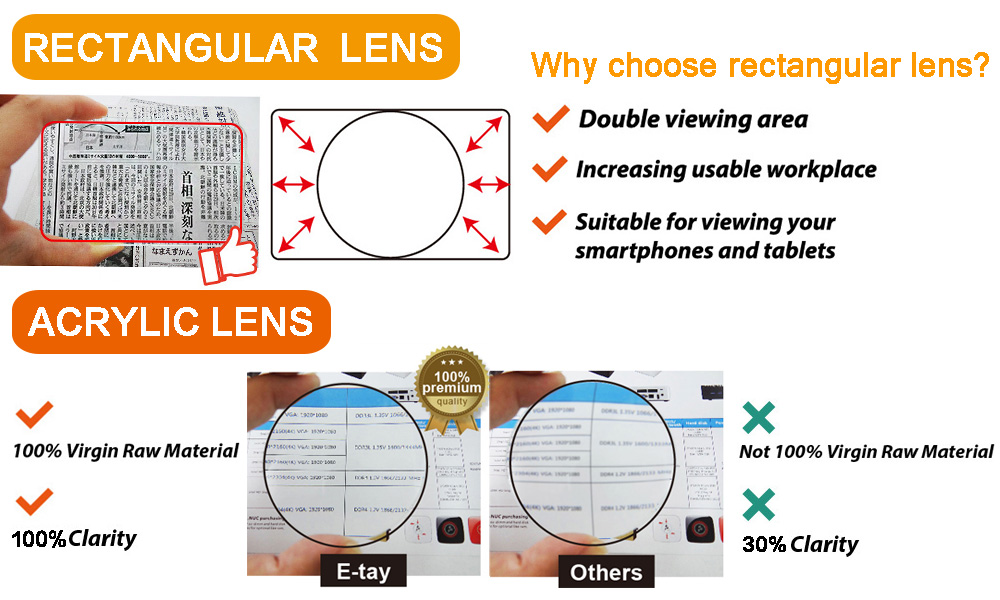 Features
Illuminated magnifiers there exists product patent number.
Handheld magnifiers optically perfect lens with a 4x magnifier lens.
Hand held magnifiers Has a durable lens that is unbreakable and scratch resistant.
Handheld magnifier Easy on/off switch.
Illuminated magnifiers with Ergonomic plastic handle.
Illuminated magnifiers is perfect for books, maps crafts and wherever lighted magnification is needed.
Product patent number: 201530263372. 9
Easy on/off switch LED lighted magnifier
Made in Taiwan
Related Products

#1619

---

8 inch bar magnifier 3x,hands-free large magnifying bar magnifier entire row-wide viewing area for small prints and low vision. 3X magnification bar with large viewing area. The viewing area is 8" x 1.5" covers entire 5 rows of letter size paper with powerful 3x magnification. Magnifying bar with guideline compares to others and you will find this is professional grade at an affordable cost. 8" 3X reading bar magnifier for low vision has a stylish design and makes a uniquely practical gift for both men and women alike.

---

---

Movies





Gallery