---
Round Acrylic Biconvex Magnifying Lens - 2X/Dia. 180mm Magnifying Glass
#18cm lens
Desk Magnifying lens / Magnifier Lamp 5 Diopter Fold Light Salon Skincare Spa Clamp magnifying glass 180mm dia. 2X magnification.

Magnifying Lamp LED 5 Diopter Magnifier Desk Light White 5X Glass Salon magnifying glass 7 1/4"" extra large magnifier.
Specification
Item number: #18cm lens
MOQ: 1,000pcs
Magnification: 2X
Size: Dia. 180mm
Structure: Biconvex Lens (Double Convex Lens)
Packing: Paper box
Terms of payment: Paypal, TT, Western union, L/C, D/P
Floor Stand Magnifying Magnifier Fluor Lamp Light Beauty 5 Diopter Salon Spa magnifier glass dia. 180mm jumbo manifying glass.
Pro Lamp Floor Desk Standing Magnifying 5 Diopter Magnification Salon Beauty Makeup magnifying glass extra large lens.
Why choose E-Tay's round lens?
1.Easy to carry. 2.Not easy to hurt. 3.Clear reading.
E-Tay's Round Acrylic Biconvex Magnifying Lens - 2X/Dia. 180mm Magnifying Glass
Round Acrylic Biconvex Magnifying Lens - 2X/Dia. 180mm Magnifying Glass are made of high quality acrylic material(1.100%Virglin Raw Material. 2.100% Clarity.)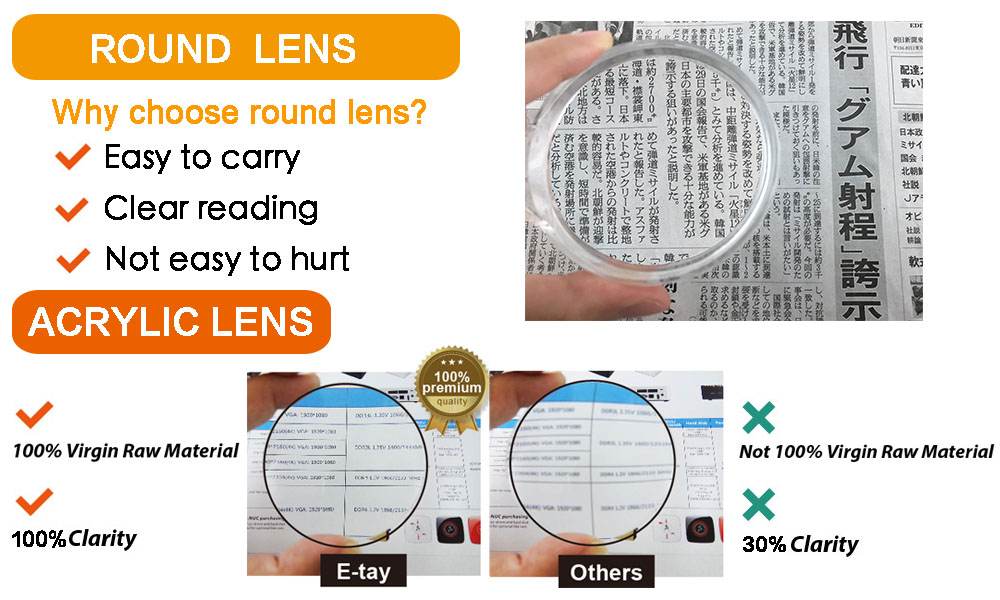 Related Products

#16cm lens

---

Magnifying Lamp lens, Beauty Magnifying Lamps lens, Acrylic magnifying lens, Cosmetic Magnifying Lamps lens, Beauty Salon Magnifying Lamp, Magnifying Eye lens, Desk Portable Cosmetic Lamp Magnifier dia. 160mm Biconvex lens.

---

#13cm lens

---

5 1/4 inch large biconvex magnifying glass dermatologist cosmetic magnifier beauty equipment for eyelash magnifier. Permanent Makeup Cosmetic Magnifier Lamp Advanced White Lens Led Acrylic Magnifying Lens 130mm dia. Cosmetologist look girl hand in cosmetic magnifier in beauty saloon, cosmetology magnifier lens 5 1/4 inch dia. Desk Magnifier Magnifying Lamp Light Skincare Beauty Nail Manicure Tattoo Salon magnifying glass 130mm dia. Magnifying Lamp Desk Magnifier Light Skin Care magnifying glass, Beauty Nail Manicure Tattoo Salon inspection magnifier lens.

---

---

Gallery