---
LED lighted Standing Loupe magnifier
#DS73
Handfree lighted magnifier, with 2 LED light.
Reading magnifier with illumination adjustable lens for better focus.
LED lighted magnifying glass stretch-out legs to use hands free and fold up to store or use hand-held.
Illuminated magnifier Ideal for hobbies, observing insects, coins, leaves.
Specification
Item number: #DS73
MOQ: 1,000pcs
Magnification: 10X
Size: 12 cm L x 4.5 cm W x 2.5 cm H
Colors: Silver
Packing: Paper box
Terms of payment: Paypal, TT, Western union, L/C, D/P
Why choose E-Tay's round lens?
1.Easy to carry. 2.Not easy to hurt. 3.Clear reading.
E-Tay's LED lighted Standing Loupe magnifier
LED lighted Standing Loupe magnifier are made of high quality acrylic material(1.100%Virglin Raw Material. 2.100% Clarity.)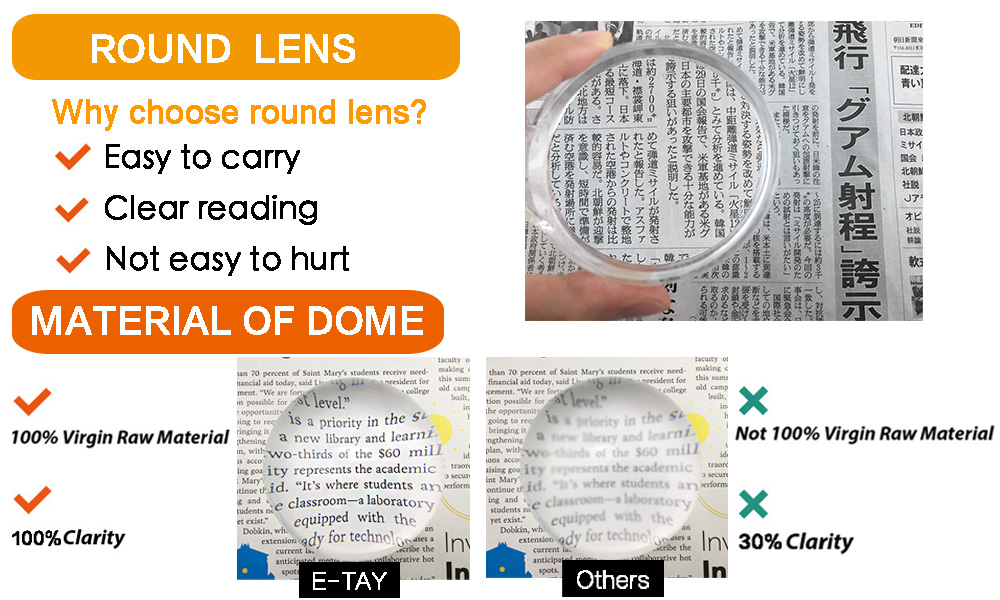 Related Products

#ML3

---

3" in diameter handheld reading magnifying glass with bifocal lens which provides 4x magnification. Round durable metal frame of illuminated magnifying glass to protect magnifying glass from being scratched and shattered. Ideal for fine print, artwork, stamp collections, reading map, magazines. High quality optical grade magnifying lens for distortion free viewing.

---

#ML6

---

2X 4X Bifocal Double Lens Handheld 90mm Illuminated Magnifying Glass Loupe with 2 LED Lights. Magnifier with LED light made with scratch resistant, clear optical grade lens designed for seniors, students, professionals, people with low vision and macular degeneration. Equipped with 2 energy-efficient LED lights built in the handle. The lights provide an evenly lit viewing area, perfect for nighttime book reading and use in low light applications.

---

---

Gallery