---
Kaleidoscope Resin Lens of Wooden Toy (Multivision Vision)
#KL0144
E-Tay offers different size and pattern Kaleidoscope acrylic lens for DIY kaleidoscope sensory toys.
Regular size about 38mm, 40mm, 44mm, and 50mm. Kaleidoscope acrylic lens is used in educational /science toys make kids learn knowledge of science while having fun. Furthermore, many photographers and videographers made own kaleidoscope filter from special kaleidoscop lens and make kaleidoscopic effect which gives an interesting twist to photos and videos.
We also provide custom kaleidoscope and acrylic lens manufacturing and packaging services, one-stop service to complete products.
Fractal Filters, Kaleidoscope Toy/Stationery for Children
Use kaleidoscope acrylic lens to make DIY kaleidoscope sensory toys
Acrylic lens (44mm) is suitable as one of the parts for making kaleidoscope toys and children learn the principles of scientific knowledge through the imaging reflected by acrylic lens. Kaleidoscope acrylic lens is unbreakable and safe which provides crystal clear image quality for kids. On the other hands, Toys that would teach children family values, and also look good while on display. Toys that last and teach children the value of things at the same time.
We offer OEM/ODM Service for kaleidoscope
We offer the DIY optical lens for toy factory to make the different shape kaleidoscope or to make the wooden kaleidoscope toys. Acrylic lens is applicated in educational toys which let children learn by playing. Moreover, we also have OEM/ODM service for the customers. No matter educational / scientific optical toys or entertainment kaleidoscopes, we can provide production, design and packaging. Welcome to tell us your ideas and ingenuity to create unique optical toys. After more than 30 years development, the product hot sale domestic and overseas and got very good feedback from the customer's acceptance and reliability.
Specification
Item number: #KL0144
MOQ: 5000pcs
Size: Dia. 44mm
Structure: Plano Convex Lens
Packing: Paper box
Terms of payment: Paypal, TT, Western union, L/C, D/P
Why choose E-Tay's round lens?
1.Easy to carry. 2.Not easy to hurt. 3.Clear reading.
E-Tay's Kaleidoscope Lens (Multivision Vision)
Kaleidoscope Lens (Multivision Vision) are made of high quality acrylic material(1.100%Virglin Raw Material. 2.100% Clarity.)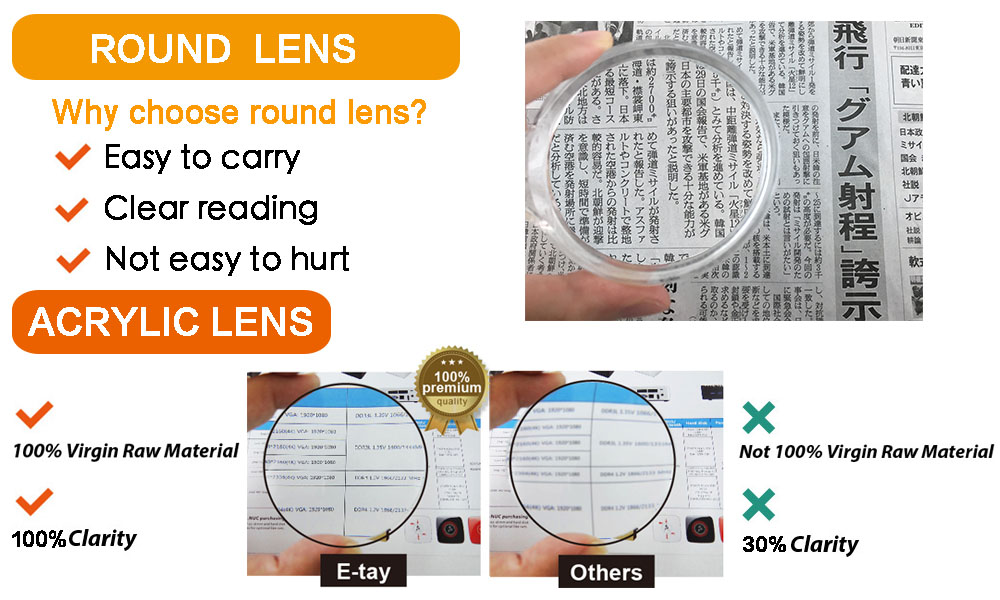 Related Products

#KL0138

---

E-Tay supplies different size and pattern acrylic lens for DIY kaleidoscope sensory toys. Regular size about 38mm, 40mm, 44mm, and 50mm. Acrylic lenses are used in educational /science toys make kids learn knowledge of science while having fun. Furthermore, many photographers and videographers made own kaleidoscope filter from special kaleidoscope lens and make kaleidoscopic effect which gives an interesting twist to photos and videos. We also provide kaleidoscope manufacturing and packaging services, one-stop service to complete products.

---

#KL0150

---

E-Tay offers different size and pattern Kaleidoscope acrylic lens for DIY kaleidoscope sensory toys. Regular size about 38mm, 40mm, 44mm, and 50mm. Kaleidoscope acrylic lens is used in educational /science toys make kids learn knowledge of science while having fun. Furthermore, many photographers and videographers made own kaleidoscope filter from special kaleidoscop lens and make kaleidoscopic effect which gives an interesting twist to photos and videos. We also provide custom kaleidoscope and acrylic lens manufacturing and packaging services, one-stop service to complete products.

---

---

Gallery