---
3X Rectangular LED Handheld Magnifier with 2 Adjustable Brightness Levels
#ED11
The initial concept was to use a PVC fresnel lens in the middle. However, we figured out a hard acrylic concave magnifier lens would be durable and had a better magnifying effect. It was modified to 6 built-in ultra bright LEDs from 4 built-in LEDs and the switch was modified to 3-section switch from traditional on/off switch.
Lighted full page wide rectangular magnifying lens, ideal for reading books, newspaper and magazines with minimal hand movement and long reading time because of its lightweight. Portable and tough enough to take with you wherever you go. The durable construction of our lenses and sturdy frame means even kids can use it safely for science experiments.
Illuminated page LED magnifying sheet equipped with 3 powerful, energy-efficient LED lights built on the frame. The lights provide an evenly lit viewing area, perfect for night time book reading and use in low light applications. The lights run on 2 battery cells which are included; a new set of batteries can last for months.
Specification
Item number: #ED11
MOQ: 1,000pcs
Magnification: 3X
Size: 225 x 80 x 20mm
Colors: Black, Custom
LED Lights: 6 LED Lights
Button Batteries (not included): AAA x 3pcs
Packing: Paper box
Terms of payment: Paypal, TT, Western union, L/C, D/P
Why choose E-Tay's rectangular lens?
1.Double viewing area. 2.increasing usable workplace. 3.Suitable for viewing area your smartphones and tablets.
E-Tay's 3X Rectangular LED Handheld Magnifier with 2 Adjustable Brightness Levels
3X Rectangular LED Handheld Magnifier with 2 Adjustable Brightness Levels are made of high quality acrylic material(1.100%Virglin Raw Material. 2.100% Clarity.)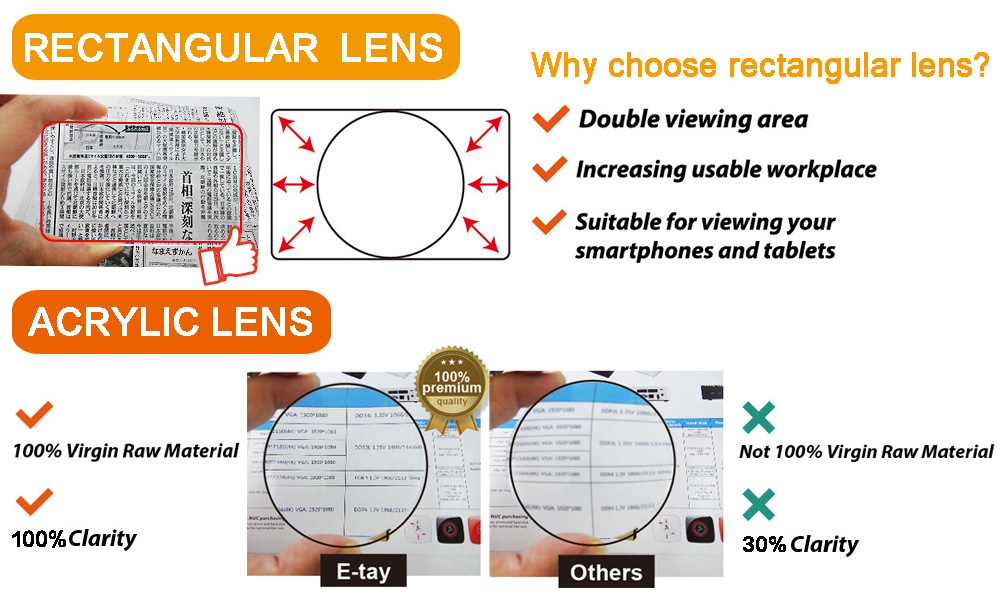 Related Products

#ED6

---

iPhone shaped LED magnifier are with 4 LED lights as handheld LED magnifier. Besides, the color of plastic frame can be customized. Rectangular handheld magnifier can also be a handy pocket LED magnifier. Ideal for all reading materials or viewing all small objects. E-Tay's first order of this iPhone shaped LED lighted magnifier was mass produced in May, 2012.

---

#ED9

---

Acrylic LED lighted pocket magnifier with 4 bulit-in LED illumination which has 2x/4x bifocal lens. Lighted LED magnifier is good for reading small print and viewing small object. Illuminated LED magnifier is portable and same size as smart phone. E-Tay manufacturer for lighted LED magnifiers over 20 years. E-tay's products like LED handheld magnifier, LED book reading magnifier, headband magnifier with LED light, stand magnifying glass with LED light, etc.

---

#ED12

---

Jumbo enlarge rectangular magnifier with 3X large handheld magnifying glass with dimmable anti-glare LED lights (Provide more Evenly Lit area) & bonus cleaning cloth. ED12 is the second generation of ED11. Ultra bright LED was added to 10. The switch was upgraded to dimmable switch, which means users can adjust the brightness by rolling his/her finger gradually. It consumes 60% less power than ED11. The product is best characterised by using SMD LED. SMD LEDs make the lights shoot mildly and gently and your eyes won't get sore after long hours of reading. E-Tay is the first company in the world to develop this kind of magnifier.

---

---

Movies





Gallery