---
Dia. 75mm Round 3X Acrylic Biconvex Magnifying Lens with Spot 4X Bifocal
#7.5cm lens
Round shape acrylic biconvex magnifying glass with 4x magnification power in size 75mm dia. magnifier lens perfect for reading small text or price tag.
E-Tay special for manufacturer PMMA reading magnifier lens. Rectangular Magnifiers, square Magnifying Glass, Pocket Magnifier, Lighted Magnifier, Handheld Magnifier, Aspheric Magnifiers, & Dome Magnifiers! and best price for Magnifying Glass, Magnifiers, Low Vision Aids...
Specification
Item number: #7.5cm lens
MOQ: 1,000pcs
Magnification: 2.5X
Size: Dia. 75mm
Structure: Biconvex Lens (Double Convex Lens)
Packing: Paper box
Terms of payment: Paypal, TT, Western union, L/C, D/P
Why choose E-Tay's round lens?
1.Easy to carry. 2.Not easy to hurt. 3.Clear reading.
E-Tay's Dia. 75mm Round 3X Acrylic Biconvex Magnifying Lens with Spot 4X Bifocal
Dia. 75mm Round 3X Acrylic Biconvex Magnifying Lens with Spot 4X Bifocal are made of high quality acrylic material(1.100%Virglin Raw Material. 2.100% Clarity.)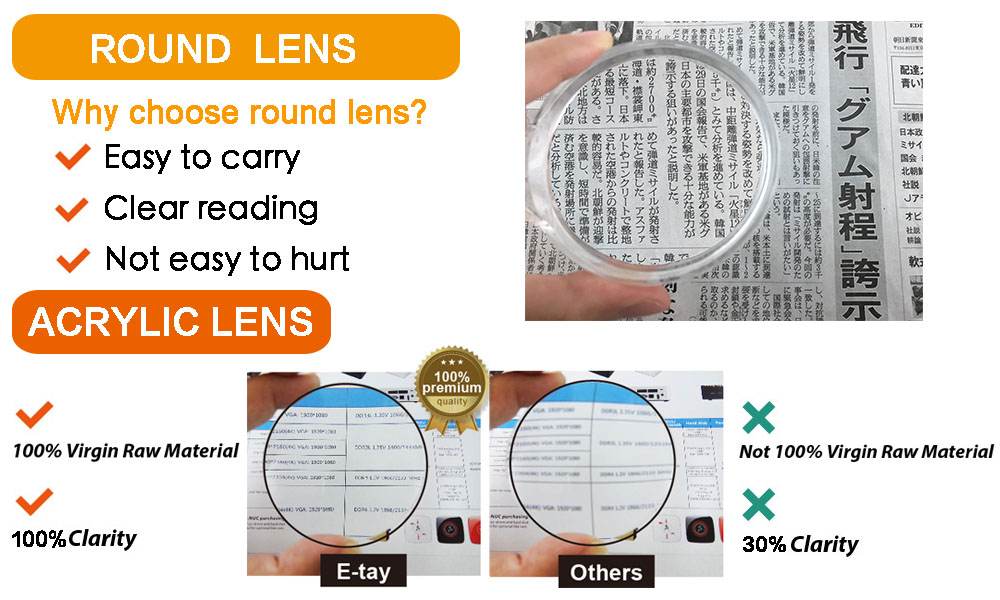 Related Products

#4cm lens

---

Round Acrylic Biconvex Magnifying Lens 40mm dia. lens with 3X power magnification. 40mm Magnifier with 3X magnification enlargement for Seniors, Maps, Macular Degeneration, Jewellery, Watch & Computer Repair, Hobbies & Stamps Magnifying Tools.

---

---

Gallery