---
Acrylic Reading Magnifying Glass with Handle
#ET36
Acrylic Reading Magnifying Glass with Handle fits into a credit card size package. Transparent Pocket Size Lens Reading Magnifier onto your nose in an emergency situation. Perfect for those emergency moments when you don't have your glasses but need to read small print. Having them in your wallet makes them virtually impossible to lose.
SOS reading glasses
Acrylic Reading Magnifying Glass with Handle, reader rescue reading magnifier is great for reading small print, price tag, doze prescription when you are emergency needed. The plastic emergency reading glass is very light weight and tiny for easy carry when you are traveling.
The SOS reading glasses with +200 diopter suitable all purpose when reading small text or restaurant menu. you will not have to afford without it for this compact small size reading glass magnifier.
Specification
Item number: #ET36
MOQ: 5,000pcs
Magnification: 3X
Size: 97 x 40mm
Material: Acrylic Plastic
Colors: Transparent
Packing: Paper box
Terms of payment: Paypal, TT, Western union, L/C, D/P
Why choose E-Tay's round lens?
1.Easy to carry. 2.Not easy to hurt. 3.Clear reading.
E-Tay's Acrylic Reading Magnifying Glass with Handle
Acrylic Reading Magnifying Glass with Handle are made of high quality acrylic material(1.100%Virglin Raw Material. 2.100% Clarity.)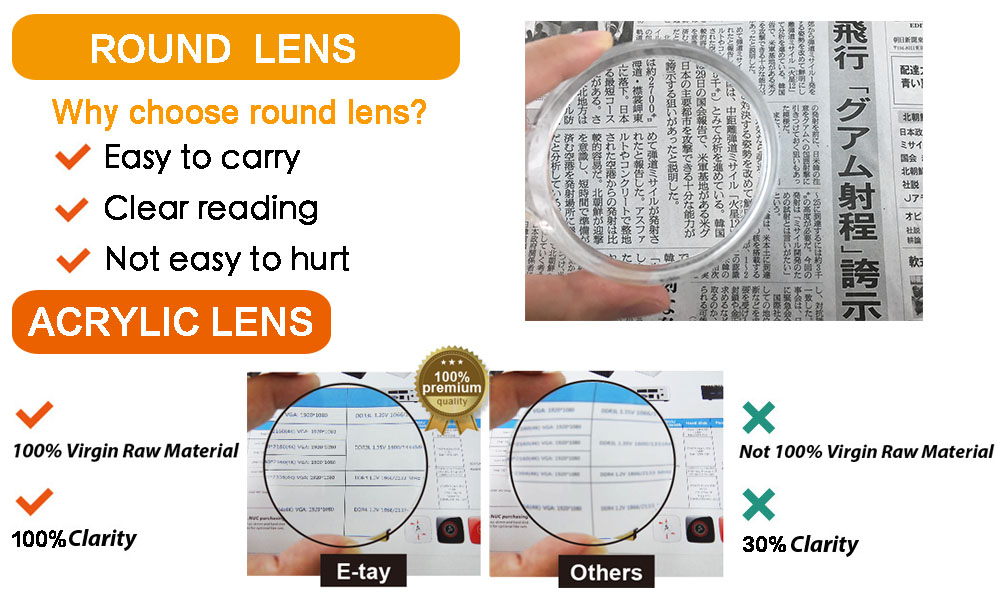 Related Products

#616

---

Card magnifier with letter opener magnifying glass bookmark gadgets. Acrylic Plano Convex Lens Bookmark Magnifier is the perfect combination of fashion and convenience for student and office use. Card Magnifier is easy to read small print on menus, price tags and charge card receipts and bookmark.

---

---

Gallery