---
5X Dome Magnifying Glass with LED Light for Seniors Reading
#1601
5X LED lighted round stand dome magnifier with 3 energy efficient LEDs. Lighted dome magnifier is made of shatterproof crystal clear magnifying acrylic lens designed for people with low vision, hobbyists and professionals.

E-Tay lighted paperweight dome magnifier is equipped with 3 LED lights with 2 section lighted switch, The lights provide an evenly lit viewing area, perfect for nighttime book reading and use in low light applications.
Specification
Item number: #1601
MOQ: 1,000pcs
Magnification: 5X
Size: Dia. 105mm
Colors: Blue, Pink, Gray
Packing: Paper box
Terms of payment: Paypal, TT, Western union, L/C, D/P
LED dome magnifier are not only bright but also energy efficient, a new set of batteries could run on months, the package comes with 3 pre-packed lithium batteries already installed. Lighted dome magnifier in low vision magnifiers and lenses for vision care.
E-Tay offer low min quantity for logo printing or customer OEM special packaging. 5X Dome Magnifying Glass with LED Lightis is used to be promotional giveaway gifts for nursing home,retirement home and activities for elderly. Welcome to purchase a lot.
Why choose E-Tay's round lens?
1.Easy to carry. 2.Not easy to hurt. 3.Clear reading.
E-Tay's 5X Dome Magnifying Glass with LED Light
5X Dome Magnifying Glass with LED Light are made of high quality acrylic material(1.100%Virglin Raw Material. 2.100% Clarity.)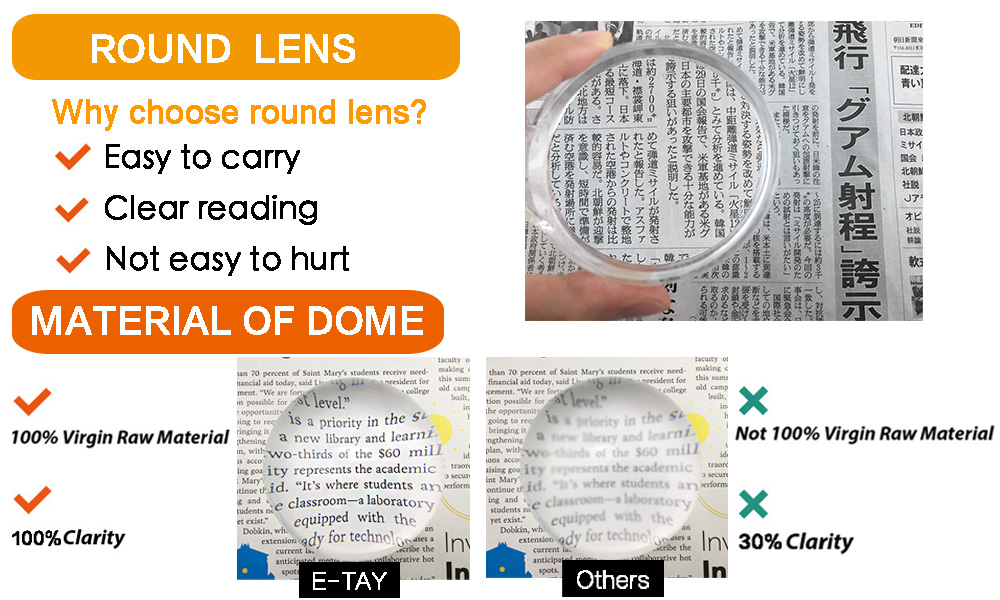 Related Products

#1608

---

LED paperweight dome magnifier with 4 energy efficient LEDs. Lighter than classic LED dome magnifiers, but still can be a paperweight. Press the light-on button to read easily and make the words clearer when the surrounding is lack of light. Graceful round acrylic LED Lighted dome magnifier with custom plentiful color is perfectly fit for business occasion.

---

#690

---

Acrylic dome magnifier made of optical grade acrylic has a 4x magnification glass lens effect, dome magnifier providing a large viewing surface with maximum light collecting effects.Dome magnifier hands free, lay on flat surface then you can get the best magnification effect. acrylic dome magnifier ideal for reading small prints, newspaper, book, map, directory, dictionaries, x-rays etc.

---

---

Movies





Gallery