---
3X Hands Free Acrylic Full Page LED Magnifier
#300PSL
3X Hands Free Full Page LED Page Magnifier has ideal magnification for reading small prints, viewing , and checking tiny hobby and crafting material. Full page size and flips out legs of handsfree lighted magnifying glass make reading stand across a whole page easier without moving the magnifier for hands free reading;moreover,12 ultra bright built-in LEDs let people read clearly in the dark.

The lens of hands free full page magnifying glass with light is made out of optical grade acrylic a superior material than Fresnel lens, which provides crystal clear image quality with minimal distortion, perfect for seniors with aging eyes and low vision individuals.
With two power supply modes
Two power supply modes: Use batteries AAA x3 or USB power cord
3X Hands Free Acrylic Full Page LED Magnifier-Two power supply modes
Specification
Item number: #300PSL
MOQ: 500pcs
Magnification: 3X
Size: 200 x 276 mm
Colors: Gray (customized welcome)
Illumination: 12 LED Bulbs
Packing: Paper box
Terms of payment: Paypal, TT, Western union, L/C, D/P
Why choose E-Tay's rectangular lens?
1.Double viewing area. 2.increasing usable workplace. 3.Suitable for viewing area your smartphones and tablets.
E-Tay's 3X Acrylic Hands Free Full Page LED Magnifier
3X Acrylic Hands Free Full Page LED Magnifier are made of high quality acrylic material(1.100%Virglin Raw Material. 2.100% Clarity.)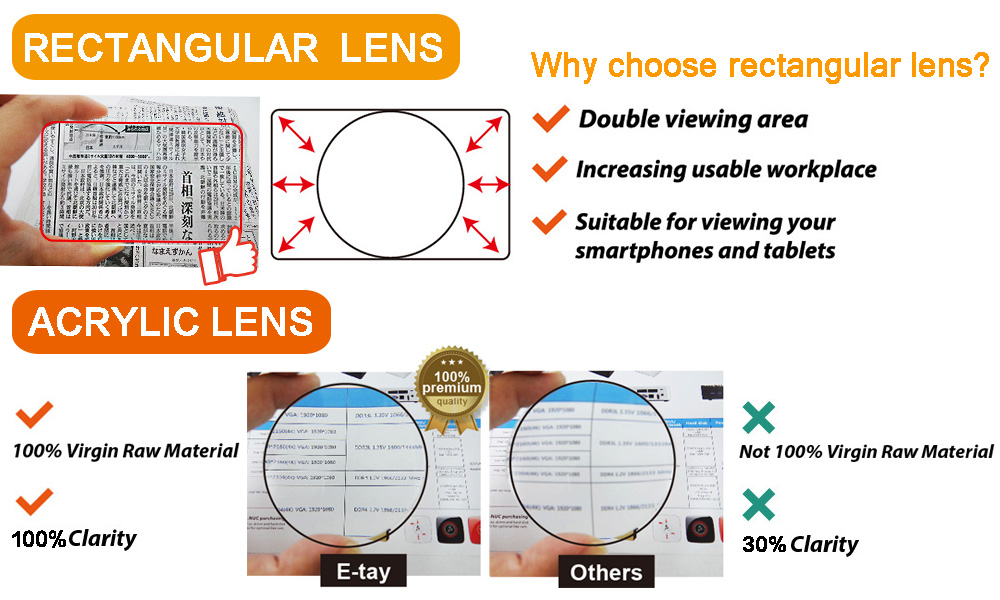 Features
LED lighted magnifying glass is perfect for books, maps crafts and wherever lighted magnification is needed.
Illuminated stand LED magnifier with rimless, durable and unbreakable lens and is scratch resistant.
Full Page size magnifier viewing area, reading with ease.
A4 size magnifying sheet is Very handy.
Use for reading small print of newspapers, magazines, books, etc.
page fresnel magnifier standing, Hands-free, or hand on neck magnifier.
Hands free page magnifier sheet Sturdy and portable.
Foldable page magnifier with fresnel magnifying sheet.
OEM / ODM, wholesale.
Easy on / off switch LED lighted magnifier.
Made in Taiwan.
Related Products

#1814

---

A5 size LED reader page magnifier is made of high quality magnifying lens designed for people with low vision, seniors, hobbyists and professionals. The 3X magnifying lens is ideal for reading and inspection, full page magnifying glass with light is perfect for electronic repair, and examining extremely small texts, images, and objects. The lighted page rader magnifying sheet is operated by cell battery and 3 lighted led.

---

#200WS

---

Wooden frame jumbo size foldable 3x magnification hands free magnifier as seen on TV. Wooden table stand hands free reading magnifier wooden frame with acrylic lens. It fits over any book size for large viewing area.Wooden foldable hands free Magnifier comes with a collapsible wooden frame table stand and a 3X page magnifier sheet to make it the perfect reading or embroidery, stamp collecting, handicrafts, etc.

---

---

Gallery